Yes, speed does make a difference.
The facts show that when the average person has to wait more than just 3 seconds there's a 50% chance they'll click away from the website and go find a faster one.
Every AEON Hosting™ account is automatically equipped with super-fast loading speeds that are among the very fastest available for under $100/month.
We challenge you to compare our speeds versus competitors. See for yourself how we blow them away in speed.
Here at AEON we've had a philosophy since our beginning in 2006: none of the glitz and glamor, and all performance.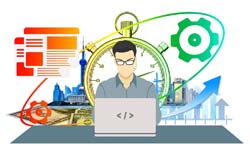 Do you need web development help?
AEON Hosting™ works with a team of freelance web designers and developers that we've known for years. They are extremely good at what they do, and they don't cost you an arm and a leg to use their services.
After you sign up for a free trial, you will be given this opportunity if you are interested.
Homepage
::
Contact
Contact Form
Please use this form to contact us if you have any questions. Phone support is available for customers.