There is no Wrong Choice
When you Choose Aeon Hosting.
Standard
Turbo Speed Servers
FTP access
Free installation of CMS
$5.99/month
(must be paid yearly after the free trial period)
Advanced
Turbo Speed Servers
Managed Hosting + FTP
Free installation of CMS
Free SSL and CDN
Website Optimization
Developer Support
$16.99/month
(must be paid yearly after the free trial period)
Online Store
Development and Support to get you up and running
Unlimited Products
Customer Dashboard
Inventory Tracking
No added transaction fees on Credit Card processing
Setting up an online store can be expensive and time-consuming. It doesn't have to be! With our Online Store package we've already done the heavy lifting. We walk you through every step.
$100 one-time setup fee
(additional charges paid monthly, determined according to sales volume)
$10: up to $500 in sales that month
$30: up to $1,500 in sales that month
$60: up to $3,000 in sales that month
Sign Up Today!
Yes, speed does make a difference.
The facts show that when the average person has to wait more than just 3 seconds there's a 50% chance they'll click away from the website and go find a faster one.
Every AEON Hosting™ account is automatically equipped with super-fast loading speeds that are among the very fastest available for under $100/month.
We challenge you to compare our speeds versus competitors. See for yourself how we blow them away in speed.
Here at AEON we've had a philosophy since our beginning in 2006: none of the glitz and glamor, and all performance.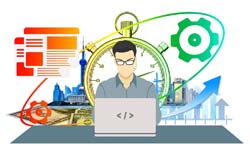 Do you need web development help?
AEON Hosting™ works with a team of freelance web designers and developers that we've known for years. They are extremely good at what they do, and it wont cost you an arm and a leg to use their services.
After you sign up for a free trial, you will be given this opportunity if you are interested.
.COM for just $9.45 a year. Not just the first year— every year.
If you need a new domain, you've found the right place. Most companies play a game of bait and switch. They let you register a domain for a trival price, but then the next year they raise the price to $15 or more.
Then, if you want to transfer your domain away from them, they make it a hard complicated process hoping that you give up in frustration.
At AEON Hosting™ we don't believe in such tricks and bad business practices. Your domain is YOURS, and we made transfering it away is as easy as we possibly could.
Developer? Set up the site now, defer pricing to your client later.